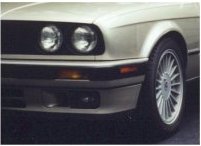 Technical Articles and Step by Step Procedures


---
Disclaimer

: These articles and procedures are examples of how and what can be done. These all assume the use of proper tools and the M535i SIG and I take no reponsiblity for any incorrect information posted on this page. If you are not comfortable in undertaking any automotive repair, take your car to a qualified BMW mechanic. Otherwise use this information at your own risk. Like the copyright says any duplication of this information with out the explicit permission of the M535i Special Interest Group & Registry is prohibited. If you run into any specific problems please email me through the link at the bottom of the page and I will try to assist you as best I can. If you have suggestions for improvements or corrections to procedures or other relative information please email them to me through the link at the bottom of the page.



Topics Covered
Accessories
Bodywork
Interior
Electrical
Motor
Fuel System
Manual Transmission
Automatic Transmission
Driveline
Front Axle and Steering
Rear Axle
Wheels and Tires
Brakes
Other

If there is a topic not listed please let me know!




Accessories

Bodywork

Interior

Electrical

Ellipsoid/Euro headlight wiring



I finally installed the lights and man was I surprised at how easy BMW made it to convert. To do the conversion, you have to open up the fuse box. You will notice that the high beam relay is a 5 pin relay. The center pin, 87A, is the pin that allows positive power to flow to the low beam and fog light relays. What you need to do is disconnect the battery, then open up the fuse box. In the fuse box you will see a wire that runs from pin 30 on the low beam relay to pin 87A on the high beam relay. Remove the connector out of the high beam relay and cut off the connector. Then what you need to do is strip and crimp on a ring connector that then will be placed on the positive bus. This is very easy to find as it has 2 very thick red wires running to it. Attach this loop to the bus and then place in a normal 4 pin relay into you high beam relay. Make sure you tighten the positive bus and then close up the fuse box. Reconnect the battery and your done. Now the lows, highs, and fogs can all be on at the same time.

Written by Rob Anderson '01

Motor

Fuel System

Manual Transmission

What is a "Dual Mass" Flywheel and does it rattle?



What individual's call a "dual" mass flywheel, BMW calls a "twin" mass flywheel. There has been confusion caused by this because diesels and some modern BMWs use something called a "dual" mass flywheel. The modern dual mass flywheel is actually comprised of more than one part, but the dual mass flywheels found on a 528e or 325e are actually a single piece.






These flywheels just weigh twice as much as the standard flywheel. BMW used these special flywheel to try to smooth out the idle of these models. This is because the idle of the long stroke M20 2.7L motor was considered ruff, and so to smooth it out, the dual mass flywheel was used. Many people have said that these flywheels can cause rattles. This is simply not true. The rattles that most people complain about are actually coming from the throw out or release bearing. This is because the dual mass flywheel uses a completely different throw out bearing which is more prone to rattling. Also many people wonder if you can replace a dual mass flywheel with a single mass. The answer is yes, but you have to use the proper clutch parts. All of the clutch parts for the single mass flywheel are different than the dual mass, so you will need to do a complete clutch job if you want to change the flywheels.

Written by Rob Anderson '01

Automatic Transmission

Driveline

Driveline Shudder



I would first look at your diff mount. If it is bad, it will cause the diff to sag which will contribute to poor rear suspension geometry as well as putting excess strain on the universal joint in the driveshaft. Then I would want to check to see if the half shaft ends are still round. They generally oblong which can cause a low speed vibration. Then I would move to the guibo. Check to see if that is good. If you see cracks it must be replaced. Then look at tranny mounts. If they are broken that will cause the tranny to move around under hard load causing a vibration. Also check to make sure the center bearing is preloaded correctly. If it is, it should be deformed slightly towards the front of the car. Also make sure the motor mounts are still good. With all of this checked and/or replaced, if you still have the vibration then most likely you will need a new driveshaft.

Written by Rob Anderson '01

Front Axle and Steering

Clunking in Front Suspension



A clunking in the front suspension, can be a couple of things. First I would think that it would be the upper strut bearings. The way to check this is to find a bump on a secluded road and have a friend drive the car very slowly over the bump with the hood open and your hand on the upper strut bearing. If you feel the clunk in your hand then it is most likely either the upper strut bearing or the shock. The next thing to look at is whether the bearing is deforming or the strut is moving and the bearing is not. If the rubber of the bearing is deforming then you have a seized strut. If the strut moves and the bearing does not deform then I would suggest replacing the bearing. The clunking can also be caused by very badly worn ball joints, but I doubt that if you have no shimmy problems.

Written by Rob Anderson '01

Rear Axle

Wheels and Tires

Brakes

Other







---

Back to Home Page | Back to My Page


---